* click to view details
BIDDING UPDATES


* click 'Bidding' on the main menu (top page) to view more updates
---
BCWD WILL BE CLOSED FOR THE HOLY WEEK AND ARAW NG KAGITINGAN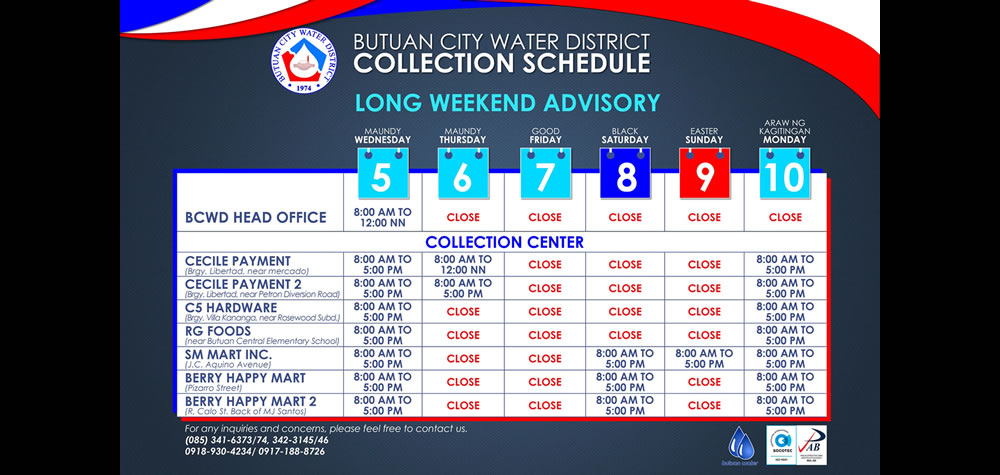 Please be informed that the Butuan City Water District (BCWD) will be closed on the following schedule in observance of the Holy Week and Araw ng Kagitingan:

• April 5, 2023 (Wednesday) from 12:00 NN – 5:00 P.M.
• April 6-7, 2023 (Thursday and Friday) from 7:30 A.M. – 5:00 P.M.; and
• April 10, 2023 (Monday) from 7:30 A.M. – 5:00 P.M.

Collection at the BCWD Administration...
BCWD in 49 Years of Service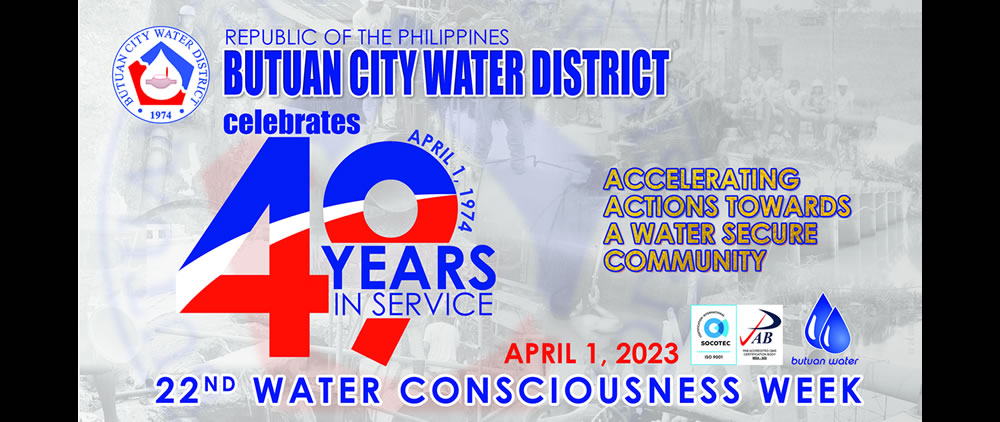 Butuan City Water District celebrates 22nd Water Conciousness weekk and 49 years in service, with the theme: Accelerating Actions towards a Water Secure Community.
...
BCWD Celebrates the 2023 National Womens Month

Butuan City Water District joins the nation in celebrating the 2023 National Women's Month with new recurring theme from 2023 to 2028: 𝐖𝐄 𝐟𝐨𝐫 𝐠𝐞𝐧𝐝𝐞𝐫 𝐞𝐪𝐮𝐚𝐥𝐢𝐭𝐲 𝐚𝐧𝐝 𝐚𝐧 𝐢𝐧𝐜𝐥𝐮𝐬𝐢𝐯𝐞 𝐬𝐨𝐜𝐢𝐞𝐭𝐲, signifying a pivotal moment in the development of women's rights and equality.

WE stand for Women and Everyone emphasizing the role of women themselves and everyone in the pursuit of gender equality. WE also stands for Women's Empowerment, which...
Pay Your Bills at any SM Bills Payment Centers and save P300 from SM Store!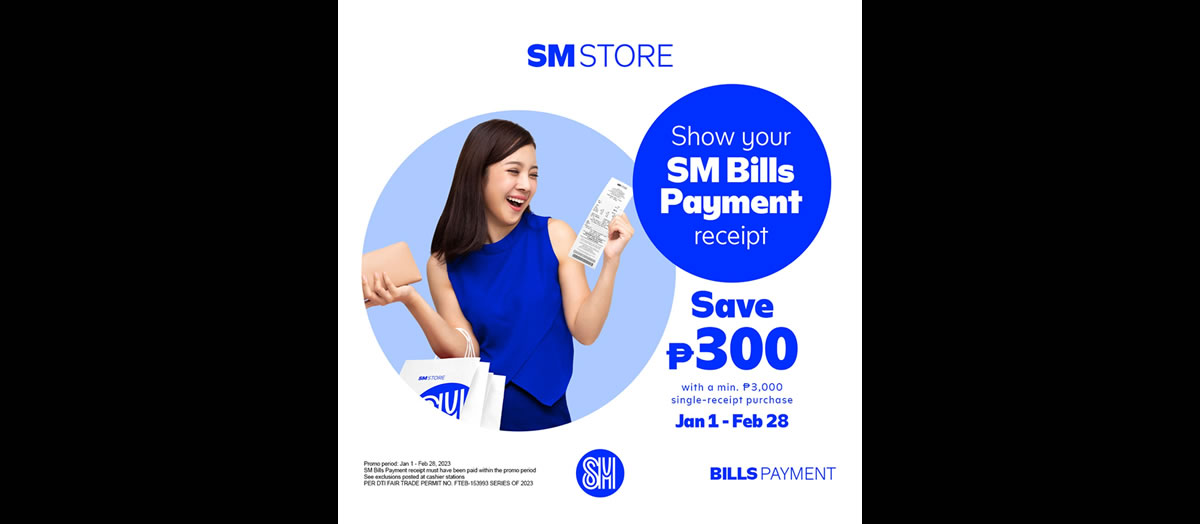 Now you may pay your Butuan City Water District Bills at any SM Bills Payment Centers and save P300 from SM Store!
Simply present your SM Bills Pay receipt within January 1 – February 28, 2023 and get P300 OFF, with minimum spend of P3,000 on all items at #SMStore Butuan.
Enjoy hassle free transactions when you visit SM Bills Payment Centers at SM City Butuan:
- SM Store Customer...
BILLING ADVISORY (January 24, 2023)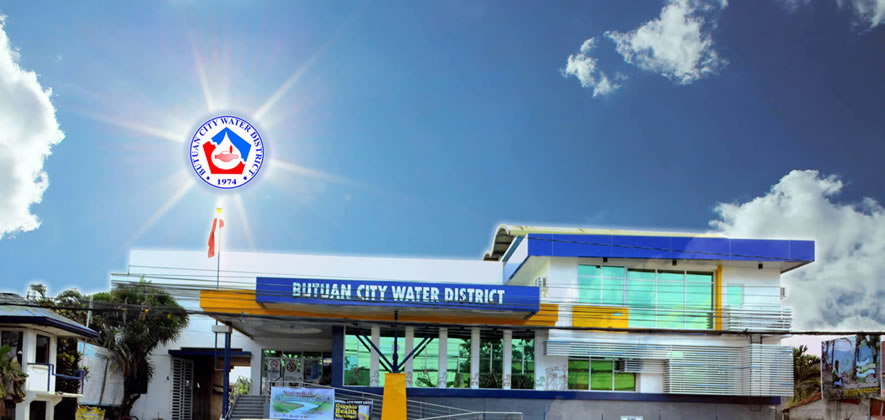 TO OUR VALUED CONCESSIONAIRES:
Please be advised that the Butuan City Water District (BCWD) will enforce an adjustment in the provisions stipulated in the Application and Contract for Water Services, specifically on the due date of the current water bill from 15 days to 7 days after date of delivery effective this March 2023 bill per BCWD Board Resolution No. 068-2022 dated October 10, 2022. Concessionaires are encouraged to pay...
Water Rate Adjustment Invitation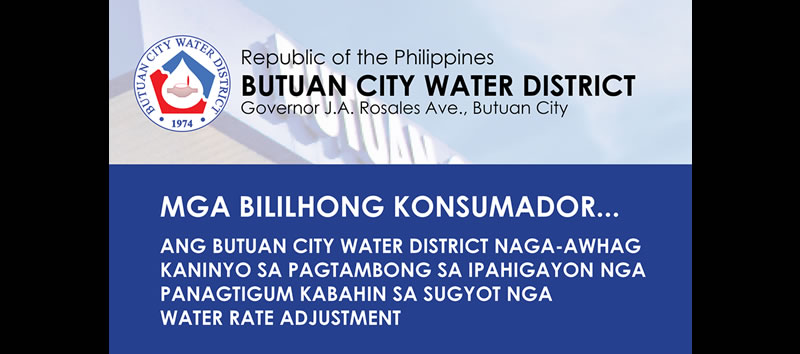 MGA BILILHONG KONSUMADOR... ANG BUTUAN CITY WATER DISTRICT NAGA-AWHAG KANINYO SA PAGTAMBONG SA IPAHIGAYON NGA PANAGTIGUM KABAHIN SA SUGYOT NGA WATER RATE ADJUSTMENT
October 26, 2022
9:00 am-12:00 nn
Ampayon
Antongalon
Taligaman
Basag
Taguibo
Anticala
Pianing
2:00 pm-5:00 pm
Baan Km. 3
Tiniwisan
Lemon
Baan Riverside
Cabcabon
Bobon
Banza
Buhangin
Maug
Mahogany
Pigdaulan
October 27, 2022
9:00 am-12:00 nn
Golden Ribbon
Maon
Pangabugan
San Vicente
Bit-os
J.P. Rizal
Agao
Silongan
Sikatuna
Rajah Soliman
Humabon
Leon Kilat
Diego Silang
New Society Village
Urduja
Lapu-Lapu
Dagohoy
Villa Kananga
2:00 pm-5:00 pm
Imadejas
Doongan
Holy Redeemer
Bayanihan
Limaha
Ambago
Tandang Sora
Obrero
Ong Yiu
San Ignacio
Port Poyohon
Libertad
Bading
Babag
Bonbon
Agusan Pequeño
Pagatpatan
Bancasi
Pinamanculan
Dumalagan
Lumbocan
Masao
...
One MERALCO Foundation and Butuan City WD seal partnership

One MERALCO Foundation, Inc. (OMF), the social development arm and corporate foundation of the Manila Electric Company (MERALCO), and Butuan City Water District (BCWD), the sole provider of potable water in Butuan City, sealed their partnership for the implementation of the 80-Hectare reforestation project in the Taguibo River Watershed Forest Reserve (TRWFR) and CADT-135 area dubbed as the "Adopt-A-Forest Program: The One for Trees (OFT) Project in the Taguibo Watershed."
The...